Welcome to Legacy Ballroom, the newest modern banquet hall for innovative modern weddings. With many Los Angeles wedding halls to choose from, brides and grooms, event coordinators, and wedding planners book the Legacy Ballroom in Glendale for its modern amenities and dazzling interior. Come experience a modern event venue where opulence meets state-of-the-art, and where weddings leverage technology to create an unforgettable experience for all in attendance.
Modern Wedding Venues in Los Angeles
A true modern wedding venue must have the functionality, aesthetics, and technology capabilities to be considered modern and cutting-edge. In fact when LA Banquets isn't booking the Legacy Ballroom as a LA wedding hall, the space is often used as a party venue, film production location, a place for corporate events, and other social and professional celebrations that require a look of modern lavishness with the latest in digital technology.
The Decor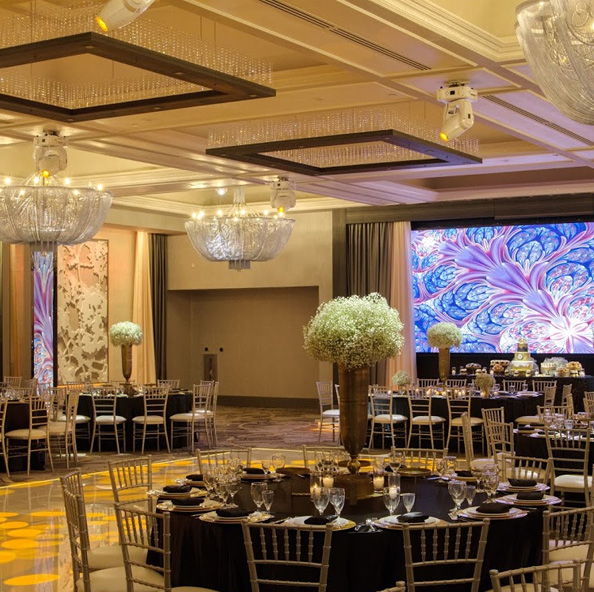 This is where modern aesthetics still retain that ballroom look and feel. The Legacy Ballroom offers an interior with sleek clean lines and luxurious architectural accents such as coffered ceilings and marble floors. The numerous grand chandeliers deliver lighting in a traditional method, with a ultra-modern design offering a special kind of chic.
The Technology
With a fully customizable LED backdrop, the Legacy Ballroom has achieved an industry first in technology. Now you can display videos or slideshows in high definition revealing memories throughout your engagement in a way that will draw in your guests making them feel more a part of your loving bond.
Does your modern wedding have a theme? Let the giant LED backdrop personalize the thematic overtone, while additional large LED panels behind columns surrounding the ballroom display the video footage of your choice.
Make Legacy Your Modern Wedding Venue in Los Angeles!
When you book your wedding at the Legacy Ballroom our event staff will work with you to to create your ideal atmosphere. From menu selections and venue layouts with your personal Event Manager to working on lighting details with our Lighting technician, we work with you every step of the way to make sure every square inch of the layout is maximized to make your wedding truly special. Contact a member of our team today to secure your date at the top modern wedding venue in Los Angeles that everyone is talking about!