A Lavish Experience Worthy of a Movie Premiere
Le Foyer Ballroom in North Hollywood offers eye-popping elegance for up to 550 guests. It's more than just a venue for your wedding reception, bar or bat mitzvah, or other milestone event. Le Foyer is an experience that your guests will never forget. We have customized the venue, and offer affordable options to make your special day even more special.
Stylish and Chic
L.A. Banquets purchased the Le Foyer Ballroom, originally known as Ojakh (Ojax), in 2007. We loved the original architecture, the opulent decor and the flexible floor plan. Over the years we have made improvements to add to what is one of the best banquet halls and weddings venues in North Hollywood. We added a bridal suite, remodeled the outdoor patio, and installed a gleaming white dance floor.
When your guests enter the building, their eyes will widen with wonder when they see the 25-foot fountain encased in imported Italian marble. They will continue into the lounge, where they can enjoy cocktails and hors d'oeuvres. Once in the ballroom, a truly dazzling chandelier adorns the ceiling, and 16 arches complete the 5,500-square-foot hall.
Le Foyer Ballroom also offers some of the best amenities of any banquet hall in Los Angeles, at an affordable price. In addition to using the ballroom and the foyer, you can invite your bridal party into the bridal suite and enjoy full butler service. For some fresh air, your guests can venture out onto the patio and savor the outdoor café. They can also enjoy the hookah bar while sipping cocktails, bathed by the warm sun or under the stars.
The Party of Your Dreams
L.A. Banquets can customize the layout of any of our banquet halls to create perfect events. At Le Foyer, we traditionally place guest tables on either side of the dance floor, creating a central space for your guests to gather and dance the night away. At the head of the room, we can create a long table to seat your wedding party or other special event guests. We offer a built in stage at the back of the room for live music, speeches, and other types of presentations.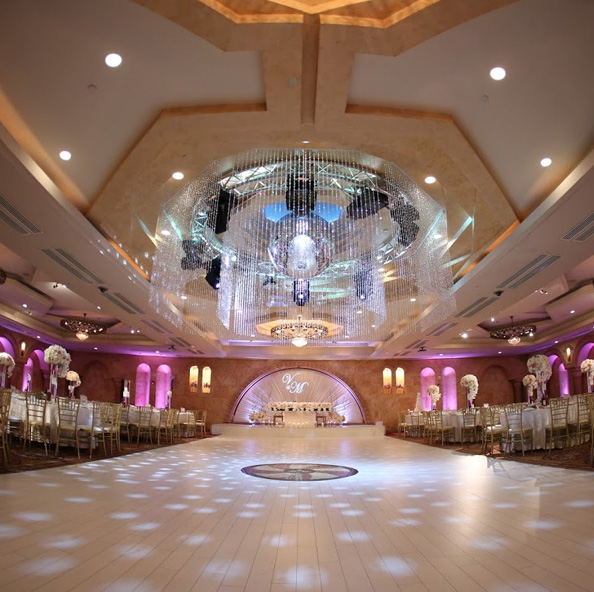 Our lighting options can instantly transform an elegant, formal wedding reception into a lively nightclub-inspired dance-fest. One minute, you're seated at tables, enjoying family-style meals in a European-inspired ballroom. The next minute, you're in a Paris nightclub, surrounded by spinning lights and pulsing music, dancing well into the night.
For your meal, you can work with L.A. Banquets catering partners, or we can coordinate with caterers of your choosing. Le Foyer Ballroom is perfect for plated service, family-style meals, or a sumptuous buffet. You can also create unique specialty stations, such as a whimsical ice cream station, a seafood station, or an espresso bar. Your guests will never want for anything when they're enjoying an L.A. Banquets event.
The Best Event Planners in L.A.
L.A. Banquets offers more than just the best private North Hollywood event venues. We assign an experienced and dedicated event specialist to help plan every detail of your party, including music, catering, audiovisual tools, layout, d&eacutecor, and any other imaginable consideration. Planning your day becomes as stress-free as possible so that you can enjoy time with friends and family.
Contact L.A. Banquets today to schedule your big day and to start making plans with our event specialists. Our staff has over 50 years of event experience. We know how to create an event to remember.