Roll Out the Red Carpet
The Glenoaks Ballroom in Glendale brings the height of elegance to your guests from the moment they lay eyes on its red carpet-adorned entryway. Bright and breathtaking, the Glenoaks Ballroom offers the ideal venue for a wedding reception, quinceañera, bar or bat mitzvah, anniversary party, corporate event, shower - frankly, for any celebration you can imagine. If you are looking for one of the best banquet halls & wedding venues in Glendale, CA, you have found it!
Classy and Comfortable
When you look at the Glenoaks Ballroom, several different words or phrases will come to mind: classy, spacious, elegant, attention to detail. Gleaming, imported marble and handcrafted woodwork lend stylish, classic, and historical elegance to every inch of the venue. The marble captures every glimmer of light from the luminous chandeliers, creating a radiant, breathtaking atmosphere. Want a different look? L.A. Banquets can bring in alternate materials for the dance floor, drape the walls in your choice of fabric and color, and customize the venue to match your personal style. Look at how we transformed this venue for a special birthday.
Guests are seated on either side of the dance floor, where they can mingle at family-style tables. Special guests or wedding party members will sit at the head of the room, and at the back, a stage can support guest speakers, live musicians, or any other type of presentation. If you prefer, you can invite a DJ or band to perform at your event, or you can develop a recorded set list for your guests. When dinner winds down, guests can gather together on the dance floor and party into the night.
Made Just for You
Thanks to the open floor plan of the Glenoaks Ballroom, you have many options for catering and for beautiful displays. You can serve a family-style meal to your guest tables, or you can wow them with plated service. If you want to create a fun atmosphere and bring your guests together, you can offer an overflowing buffet or a set of specialty stations that allow guests to serve themselves.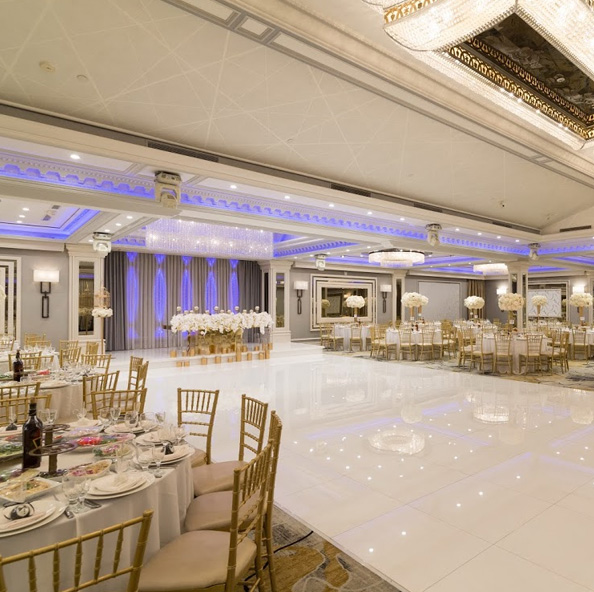 Whether you want a table filled with flowers or a tiered arrangement of photos, we can help you build a variety of beautiful and sentimental displays. As your guests mingle and enjoy each display, they can sip champagne and nibble on appetizers provided by our highly trained service team. You can also offer a bar so that your guests can enjoy the spirits of their choice. When dinner winds down, the hall's versatile, state-of-the-art lighting will transform your evening into a vibrant, energy-filled dance celebration.
Best L.A. Event Planners
L.A. Banquets is happy to work with your choice of vendors, or we can refer our catering and event creation partners. Throughout the planning process, an event specialist from L.A. Banquets will coordinate with all of the support players, creating a seamless and stress-free event.
When you combine our planning services with our beautiful banquet halls in Glendale, you'll see that we offer the best value for our banquet halls in the Glendale area. You'll deliver only the best for your guests, but only you'll know how affordable it actually was. Call us or fill out our contact form today, and an event specialist will set your dream celebration in motion.