Create the Perfect Outdoor Event
When you host an event out in the warm afternoon sun or under the stars, the Patio at Brandview in Glendale offers one of L.A.'s best open-air settings for up to 100 guests. Enjoy cocktails, a customizable hookah bar, and laidback lounge seating in the best outdoor wedding venue in Glendale CA. If the air turns chilly, our warming fire elements will keep your guests cozy and comfortable. Welcome to the best outdoor wedding venue in Glendale, CA, the Brandview Patio!
Spacious and Flexible
You can reserve the Patio at Brandview as an intimate spot for your private event, or you can host a big wedding inside the Brandview Ballroom and reserve the patio to give guests some fresh air. Host a lavish dinner inside the main ballroom, and set up a café and cocktail bar on the patio. Or, if you prefer to keep things small, keep your guests on the deck for dinner, dancing, and great conversation. We have many affordable packages and options that will never be mistaken for cheap. Our quality is of the greatest caliber.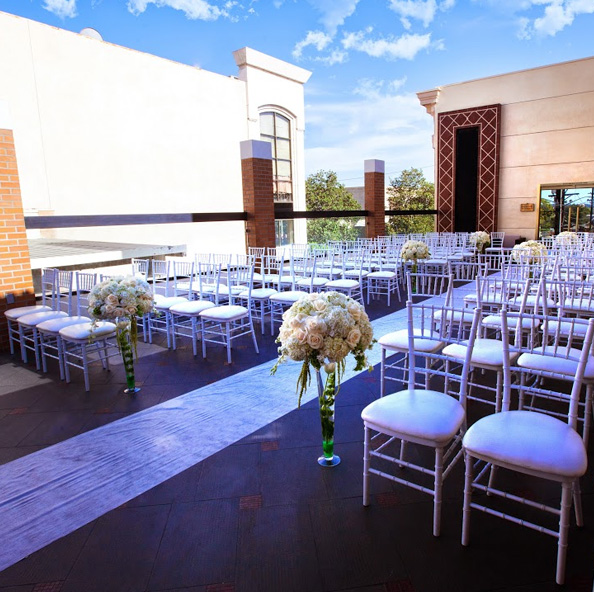 The newly constructed Patio at Brandview takes advantage of Southern California's amazing weather. Instead of waiting until summer for an outdoor event, you can enjoy mild temperatures and comfortable breezes any time of year. Have your mitzvah celebration, quinceañera, anniversary party, or birthday bash on the patio. You can also book the Patio at Brandview for any imaginable corporate event, including after-hours work parties, fundraisers, auctions, holiday celebrations, or other employee gatherings.
Even though the Patio at Brandview is outdoors, we've crafted it with great acoustics in mind. You'll have no problem hearing musicians, speeches, and presentations on the deck. Your guests will feel equally at home, whether they're listening to a congratulatory speech or engaging in a private conversation.
Make Your Vision Happen
When L.A. Banquets says, "Your day, your vision," we mean it. We want to create the event of your dreams no matter what it takes. You can book live musicians on the Patio at Brandview or offer a DJ for your guests. For food and spirits, you can work with our catering partners to keep things affordable and high quality. You can also bring in outside vendors; we're happy to work with both.
Serve appetizers and champagne on the patio, and celebrate by setting up tables for a comfortable family-style gathering filled with heaping plates of food and plenty of laughter to go around. If you want something more sophisticated, present your guests with elegant plated service. Specialty stations set the mood whether you want something whimsical or sophisticated. For example, you could transform the patio café into an ice cream bar, or you could offer a station for sampling sushi.
Contact L.A. Banquets Today
When you book one of our venues, we provide a dedicated event planner who coordinates with all vendors to make your event go smoothly. If you need more assistance, we offer comprehensive event planning services. With over 50 years of combined experience, our staff will think of everything to make your day special.
The Patio at Brandview is a unique private event venue that lets you celebrate an inexpensive, elegant occasion under either a bright & sunny or star encrusted Los Angeles sky. Contact L.A. Banquets to book the Patio at Brandview today.